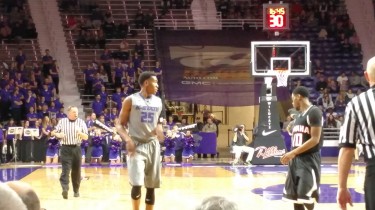 Nino Williams scored a season-high 19 points including his first three-point basket in two seasons to lead three players in double figures as Kansas State snapped a two-game losing streak with an 84-66 victory over Omaha Tuesday night at Bramlage Coliseum.
After dropping their final two games at the EA Sports Maui Invitational, the Wildcats started sluggish for a good portion of the first half trailing the upstart Mavericks 16-10 with 11:29 remaining on the clock. K-State then went on a 15-7 run to take a 25-23 lead on a pair of Jevon Thomas free throws with 5:16 left before halftime. Still Omaha, which held a 24-7 first half lead over Nebraska earlier this season would not go away scoring the next five points and regaining the lead at 28-25 with C.J. Carter scoring three of his 14 first half points. An 8-0 Wildcat run would send K-State back into the lead at 33-28 with 1:37 left in the half on the way to a 37-31 advantage at intermission.
The Cats would widen the margin to 42-31 within the first 90 seconds of the second half on a Thomas three-pointer. After Omaha closed the gap to five points, it was time for Marcus Foster to get hot with two three-pointers, a dunk and another field goal in the span of 3:24. From there K-State gradually pulled away leading by as many as 21 points before settling for the 18-point win and remaining undefeated at Bramlage Coliseum on the young season.
In addition to Williams' big night, Foster finished with 16 points while Thomas added 12. Carter led all scorers with 22 points while Rylan Murry added 11 for the Mavericks who were outsized and over-matched when it came to depth while they deal with injury issues.
Kansas State (4-3) shot 53 percent from the floor but made just 11 of 24 free throws for 45 percent. Next up for the Wildcats is a trip to Knoxville, Tenn. for the Big 12-SEC Challenge on Saturday. Last season K-State defeated Ole Miss in Bramlage Coliseum. Tipoff on Saturday at Thompson-Bowling Arena is set for 2:15 p.m. CT.
Stay connected to all things KSU on the go just text EMAW to 88474
For full video wrap-ups, including analysis, highlights, coaches & player interviews of K-State Football & Basketball check out PowerCatGameday.com