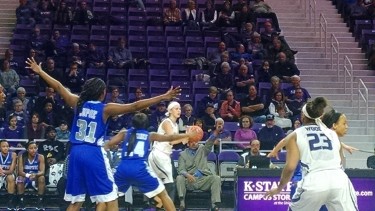 Playing their second game in just over 39 hours and after a tough loss on the road at Wichita State Friday night, the Kansas State Women's Basketball team might be cut a little slack if they appeared sluggish for the first half of Sunday's game against Oral Roberts. K-State made just seven shots and trailed 28-18 at halftime
However the Wildcats emerged with a second wind after intermission and put the clamps down on Defense holding the Golden Eagles to just 19 points and rallying for a 53-47 victory at Bramlage Coliseum.
Breanna Lewis picked up the Wildcats by leading all scorers with a game-high 22 points while Atoe Jackson and Jayden Oliver each tallied 10 points for ORU.
The Wildcats with the victory extended their winning streak at Bramlage Coliseum to six games.
Kansas State (7-1) will spend this week focusing on Final Exams and then return to the Bramlage hardwood on Saturday for a game against Grambling State. Tipoff is set for 1 p.m.
Stay connected to all things KSU on the go just text EMAW to 88474
For full video wrap-ups, including analysis, highlights, coaches & player interviews of K-State Football & Basketball check out PowerCatGameday.com