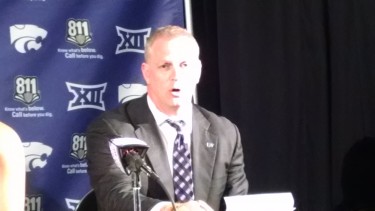 Deborah Meeks scored 16 points and Shaelyn Martin added 11 as the Kansas State Women's Basketball team pulled away from a feisty Grambling State squad for a 61-38 victory Saturday afternoon at Bramlage Coliseum.
Grambling State, which plays a lot of road games to help fund their athletic department budget was not intimidated by the Big 12 arena as they trailed just 32-24 at halftime but in the second half the Wildcats were able to find their game and outscore the Tigers 29-14 to secure their eighth win of the season.
Other notable scorers for K-State were Kindred Wesemann and Erica Young with eight points apiece. Yosha Watson and Chanta Poole led Grambling with nine points apiece while Mariah Gilliam added eight points.
Kansas State (8-1) will be on the Bramlage hardwood again Monday night when they face Abilene Christian. Tipoff is set for 7 p.m.
Stay connected to all things KSU on the go just text EMAW to 88474
For full video wrap-ups, including analysis, highlights, coaches & player interviews of K-State Football & Basketball check out PowerCatGameday.com