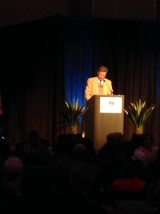 Approximately 1,000 members of the Kansas Farm Bureau gathered in Manhattan for their 96th annual meeting.
Bidding farewell to Kansas Farm Bureau President Steve Baccus was one of many items on the agenda for the hundreds of KFB members attending the 2014 Annual Meeting at the Hilton Garden Inn. Governor Sam Brownback compared Baccus' time as a leader to a Paul Harvey speech known well by Kansas farmers.
"…So God made a farmer. So this speech extolled the many virtues of a farmer; being dedicated, hard-working, perseverance. And I think Paul Harvey had Steve in mind when he gave that speech, because all those things apply to Steve and what he has done. I've worked with him many years. He's dedicated and works hard."
Other keynote speakers during the annual meeting included Senator Pat Roberts, Senator Jerry Moran, American Farm Bureau Federation President Bob Stallman, blogger and rancher Debbie Lyons-Blythe and farm lobbyist Mary Kay Thatcher.
During the meeting, over 400 delegates were scheduled to debate and adopt policies for 2015, as well as elect a new president. Influential topics included endangered species, water, taxes and energy development.