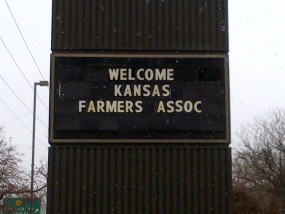 Farmers and ranchers from throughout the state of Kansas met in Manhattan for the Kansas Farmers Union State Convention. The three day event was held at the Four Points by Sheraton.
Speakers included National Geographic Photographer, Jim Richardson and Director of USDA's Grain Inspection Packers and Stockyards Administration, Larry Mitchell.
The convention began on Thursday and included discussions about a variety of topics, such as water for the future of Kansas, building a successful food co-op, family farm advocacy training, and farm and ranch succession planning.
Cody Holmes, who is a rancher in southern Missouri, was the featured guest on Saturday.  He shared a presentation about farm transitions, which featured a personal story about his own 1100 acre farm.
Holmes spoke about transitioning his farm from a commodity farm to a food producing ranch.  He has given this presentation to groups of farmers and ranchers throughout the nation, but said Kansas is a particularly rewarding place to share this story.
"The Kansas ranchers and people in this community have a tremendous advantage.  There is a lot of open land. I give lots of presentations in urban environments where land is a scarce commodity", Holmes commented.
Besides speakers and discussions, the convention also included a tour of the Flint Hills Discovery Center, and silent and live auctions.