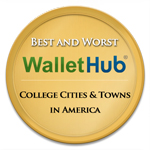 WalletHub recently released a list of the best and worst college cities and towns in America for 2014.
Manhattan ranked 12th on the list.
Two other Big 12 colleges ranked above K-State:  Iowa State University in Ames, Iowa ranked 11th and Oklahoma State University in Stillwater, Oklahoma ranked 8th. Lawrence ranked 44th on the list.
The 280 U.S. cities and towns were ranked for their academic, social and economic atmospheres.  WalletHub did this by analyzing 23 different key metrics including- the quality of higher education, crime rates and the cost of living.