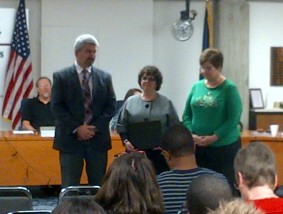 Several people were acknowledged during the special recognition portion of the Manhattan Ogden USD 383 School Board meeting Wednesday evening.
Manhattan High School Principal, Greg Hoyt was recently awarded North Central Kansas District Administrator of the Year.  This is a KMEA award which is given based off of letters of recommendation.  Northview Elementary School Music Teacher, Laurie Davis was also recognized by the KMEA as North Central Kansas Elementary Music Teacher of the Year.
Three College Hill preschool teachers, who recently earned their Child Development Associates Credential, were honored.  Courtney Albin, Caitlin Britt and Francis Bryant all met the requirements for this credential.
Manhattan High Girls Tennis Coach, Joyce Allen was also acknowledged for her honor of 6A Coach of the Year.
—-
The two items of new business were both approved unanimously.
Superintendent, Bob Shannon presented the first item involving a revised field trip policy.   Several changes were made involving non-sponsored and sponsored trips, as well as extended field trips.  One change involved not allowing Manhattan High students to drive themselves to out-of-district trips.
Associate Superintendent, Robert Seymour shared the other item, which involved a one year lease renewal for the adult learning center/open door facility.