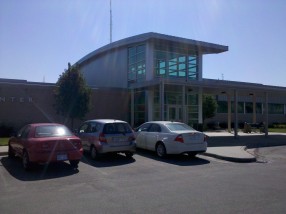 (A separate release is listed regarding a drug-related arrest)
A Wichita man is hospitalized following a vehicle roll-over collision near the 1800 block of Claflin Road reported at approximately 5:20 Wednesday evening.
Riley County Police responded to the scene and found that a 2006 Dodge Stratus driven by  Katie Jarvis, 25 of Manhattan had rolled onto its hood after a 1993 Ford F-150 collided with it. The Ford truck was driven by Steven Villalobos, 49, of Wichita.
The collision occurred as the Dodge Stratus was turning east out of a parking lot and damage was created on the vehicle's passenger side. Villalobos was transported to Mercy Regional for complaint of pain and remains a patient there Thursday.
At the time of this report the accident was under investigation and no citations had been issued.
###
Riley County Police are investigating a theft which occurred in the 1100 block of Westport Drive in Manhattan during an unknown time period. Paradise Pool and Supply reported the theft after $8,000 had been removed from a bank account. Police are investigating the matter, however, at the time of this report no arrests had been made.