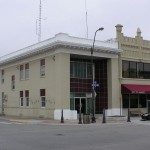 The Wamego City Commission approved a rezoning ordinance at their Tuesday meeting. City Manager Merl Page presented the ordinance at the recommendation of the Planning Commission to rezone a tract of land at 226 Lincoln Avenue from R-H (Historic Townsite Residential District) to C-1 (retail business district). This is a residential property located at the corner of Valley and K-99 Highway. The new owner, Elaine Dhuvetter plans to turn the property into a crafting Retreat.
According to Page, the Planning Commission held the public hearing to consider the application, and with no objection, recommended approval of the rezoning application. The ordinance was approved by a vote of 5 to 0.
The  Commission appointed staff to the County's Hazard Mitigation Plan at Tuesday's meeting. Page said the City of Wamego is a part of the Pottawatomie County Multi-Hazard Mitigation Plan that was adopted in 2010 by the County Board.
According to Page, seven counties are in the process of conducting a five-year update of the Plan combined in a Multi-jurisdictional Regional Hazard Mitigation Plan and is asking communities in the region to participate. As part of the plan, Page said they need to designate staff to represent the City at the planning committee meetings. He recommended Fire Chief Phil Shultz be appointed as the Chair, and Planning Administrator Ken Stein be appointed as team member. A motion was made to accept the resolution for the appointments and was approved by a vote of 5 to 0.
Commissioners also approved an alternative debt collection process at their Tuesday meeting. City Manager Merl Page said the City currently uses the State's set-off program for collecting the City's bad debts, and only collects if the debtor has a refund due from the State. He said he has met with Kendall McVee of Collection Bureau of Kansas and feels the City needs an alternative collection process in order for the City to be prudent with collection efforts. He asked for approval to move forward with a contract contingent on the City Attorney's review. Approval was granted by a vote of 5 to 0.
In other business, the Commission approved Change Order #2 for the West Highway 24, Unit 3 project for additional payments to Bayer Construction for removal of a fire hydrant and top soil on the Right-of-Way that was not included in the contract. The change order has a net increase of $3,328.32.
Also, Page reported the November Sales Tax numbers reflect a 4.7% increase for the County, and a .6% increase for the City, compared to the same period  last year.