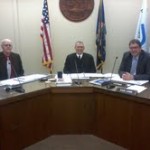 "I move to approve the resolution creating a public building commission".
With those words from Commissioner Dave Lewis, and a unanimous vote, the commission approved a PBC after months of deliberation, meetings and controversy.  It wasn't a quick and easy vote though.
Commissioner Ron Wells expressed some concern about the idea of forming a PBC right before a new commissioner is appointed.
Commission Chair Robert Boyd and Commissioner Dave Lewis both seemed to agree that it would be much more difficult to form one after mid-January, when Ben Wilson is sworn in.  Boyd stated it would involve re-doing all of the work they have done, including the different informational meetings around the county.
Wells also stated he had changed his mind since some of those previous informational meetings.  "I have some reservations.  I do tend to agree with the voters", said Wells.
The members of the public Wells said he agreed with were ones who had previously spoken during meetings about wanting to know which projects the PBC would be used for and how much they will cost.  He mentioned the commission should form a PBC when they are actually ready to move forward with a project.
Although the commission approved the PBC, they have yet to approve the bylaws they have been working on.  The commission decided to wait on that discussion until a later date.
They will officially sign the documents forming the PBC during their Monday meeting.