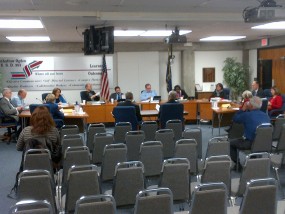 Four area legislators were in attendance for Wednesday evening's Manhattan Ogden USD 383 School Board work session.  The work session was held prior to the meeting, and featured a round-table discussion about several educational issues.
The first topic has made recent headlines around the state-mail ballot school board elections.  Although many of the board members stated they are aware that mail ballot elections typically have better participation, they know that it comes at a cost.  Some board members were not completely against mail ballot elections, but they felt school boards should have the option of mail ballot elections or normal elections.
"To me, I always heard mail-in [elections]increase participation.  But then, you have to decide whether the higher participation is worth the cost," commented 67th District Representative, Tom Phillips.  Senator Tom Hawk added, "It just seems odd to me that mail in ballot elections are the only option".  Hawk commented on the importance of local control, and said part of that would be giving the school board the option to make the choice on what type of election to have.
Along with this topic, the board asked the legislators about the bill proposing that school board elections be moved from April to November.
Board Member, Dave Colburn said he thinks city elections and school board elections are better conducted, and better serve the community, when they are done separately.
Other topics discussed during the legislative session were math standards and budget cuts.
66th District Representative, Sydney Carlin and 64th District Representative, Susie Swanson were also in attendance for the discussion.