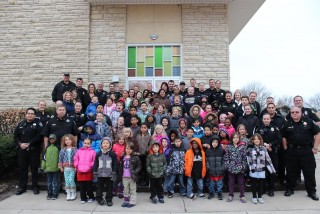 Local youth joined together with members from the Junction City Police Department, Geary County Sheriff's Office, and the Grandview Plaza Police Department, to participate in the Shop-With-a-Cop event on Saturday.
This annual event is an opportunity for local youth to interact with local law enforcement in a positive way and provides many rewarding experiences for both the youth who participate and the law enforcement officers who participate. Shop-With-A-Cop was able to take approximately 60 youth to the Junction City Wal-Mart store where each child was given $100 to spend on anything they would like for Christmas.
The most common purchases were toys and video games.
After purchasing the items local volunteers had a gift-wrapping station set up to wrap up the items so they could be placed under Christmas trees to be opened up on Christmas morning. The Shop-With-A-Cop program has been active for the last 10 years.