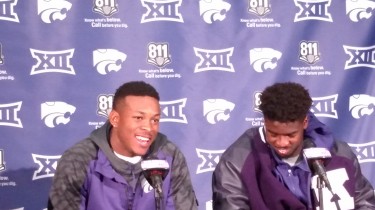 Nino Williams scored 14 points and Marcus Foster added 13 as the Kansas State Wildcats edged Bradley 50-47 Tuesday night in Men's Basketball action at Bramlage Coliseum.
The first half was marked by long scoring droughts by both teams especially K-State which went nearly 17 minutes without a Field Goal and a stretch of 8:57 without a single point. The Wildcats shot a dismal three of 13 in the first half for 23.1 percent, but the Braves were not much better going seven for 28 for an even 25 percent.
Bradley led 19-18 at halftime and the 37 points by both teams was the lowest combined point total by two teams in a half in the 27-season history of Bramlage Coliseum.
The Wildcats who were coming off a one-point loss at Tennessee on Saturday in the Big 12-SEC Challenge got untracked with a 16-6 run over the first six and a half minutes of the second half to lead 34-24 thanks to Foster who scored eight points in that stretch including two three-pointers. After K-State led 38-29 with 11:51 to go in the game, the Braves went on a furious 11-1 run in 3:54 to tie the score 39-39 with 7:57 left in the contest, but K-State would regain the lead for good on a Justin Edwards three-point shot on their next trip down the floor.
Even though the Cats would stretch the lead to eight points in the final few minutes, Bradley still had a chance to force overtime at the very end of the game but Ka'Darryl Bell missed a three-pointer in the final five seconds allowing K-State to survive.
Williams with his effort Tuesday night picked up his second career double-double. Auston Barnes led all scorers with 21 points as the only Brave in double figures. K-State made just 12 Field goals on the night, the third fewest in school history and the lowest since making 11 against Nebraska on January 11, 2006. The 34 Field Goals attempted were the sixth fewest in school history and the lowest since attempting 33 against Nebraska on February 16, 1985.
Kansas State (5-4) will be back in action on the Bramlage hardwood on Sunday when they host Savannah State. Tipoff is set for 5 p.m.
Stay connected to all things KSU on the go just text EMAW to 88474
For full video wrap-ups, including analysis, highlights, coaches & player interviews of K-State Football & Basketball check out PowerCatGameday.com