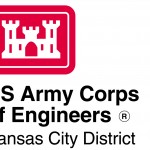 The U.S. Army Corps of Engineers will begin the winter drawdown of Tuttle Creek Lake starting Tuesday, December 9. Operations Manager with Tuttle Creek Lake for the Corps of Engineers, Brian McNulty, indicates anticipated releases will be increased to 1600 cubic feet per second range and at that release, assuming no appreciable precipitation, the lake will drop 3 feet to elevation 1,075 by December 22.
Once at that level, releases will be adjusted down in order to meet minimum downstream flow targets at Topeka and/or DeSoto on the Kansas River.
Perry and Milford Lakes also have some water to get rid of, so McNulty says Tuttle Creek Lake will be sharing channel space and targets downstream with their flows. With the dry basin conditions right now, he anticipates the lake to slowly continue to drop over the winter period and that is why the Corps is stopping its drawdown at 1,075 instead of the normal 1.072 for this time of year.