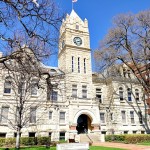 Two of three men charged in connection with an aggravated robbery and kidnapping incident reported in the 1300 block of Flint Hills Place this past October waived preliminary hearings Friday morning  before Judge William Malcolm, with a third going ahead with his scheduled preliminary hearing late in the morning.
Ortegas Tune, 26, of Manhattan was the first to waive his preliminary hearing. Tune faces charges which include one count of aggravated kidnapping, two counts of kidnapping, and one count of aggravated robbery. His arraignment has been set for December 29.
Rasheem Wilson, 26, also of Manhattan was the next to waive his hearing–with a December 29th arraignment set. Wilson's charges include two counts of aggravated kidnapping, one county of kidnapping, and one count of aggravated robbery.
Following those developments, the preliminary hearing of Kaywaun Washington,25 of Manhattan began–with one witness taking the stand before a lunch break. Kelly Lee became tearful at one point, quoting Washington as saying "I'm sorry baby girl, I have to do this to  you too," as he duct-taped her feet, hands and mouth. She remembered how calm he was when he said it, saying it seemed strange during such an intense situation, with him being nice. The other victim she referred to at that point was Stephen Briggs, who was also reportedly duct-taped by Washington and Kenneth Mallett. Mallet's  preliminary hearing is set for January 9.
Lee recounted originally being placed in a headlock with a gun to her head along with a friend of hers while at Tune's home at Flint Hills Place. She indicated she and her friend had gone there for some type of marijuana deal. She talked about providing directions to Briggs' apartment after having the gun to her head, saying she was threatened and felt she had no choice. At Briggs' home only she, Washington, and Mallet went into the residence, leaving Tune, Wilson, and Lee's friend in the car. Lee talked about hearing the two ransack the apartment, ending up with multiple duffle bags and a backpack with items they had taken.
Lee and her friend were later released after going back to Flint Hills Place, but she says she didn't tell police right away as "they", referring to the defendants, had threatened her life unless she cooperated. She finally left town a day later and ended up telling her parents, and later police.
Testimony was resuming Friday afternoon, with KMAN's Tom Reust covering the remainder of the preliminary hearing.  *Update* Washington's arraignment is set for December 29th at 2:30 pm.