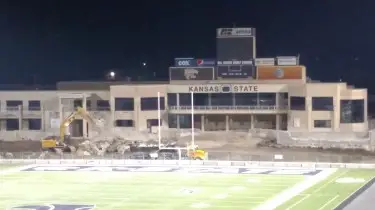 Kansas State's Football team will have a new wrinkle as they prepare for their Alamo Bowl game against UCLA on January 2. They'll be preparing out of temporary headquarters in the West Stadium Center.
The team has moved out of its normal facility the Vanier Football Complex on the north end of Bill Snyder Stadium and on Monday, crews began to demolish the complex which will be replaced by a new four-story structure expected to be completed by the start of next season.
There will also be new permanent seating on the north side which will completely enclose the stadium and allow fans to travel to all parts of the facility without having to go outside. The entire project which will also include two new video boards and new locker rooms for visiting teams is expected to be done by 2016.
Stay connected to all things KSU on the go just text EMAW to 88474
For full video wrap-ups, including analysis, highlights, coaches & player interviews of K-State Football & Basketball check out PowerCatGameday.com