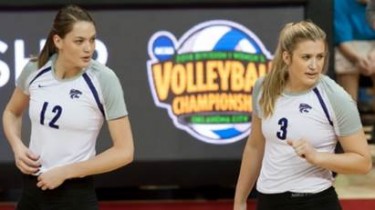 By Chris Kutz, K-State Athletics Communications
LINCOLN, Neb. – The K-State volleyball team's season came to an end on Friday as the Wildcats were swept by No. 20 Utah, 3-0 (25-16, 25-16, 25-17), in the First Round of the NCAA Tournament in the Bob Devaney Sports Center.
The Wildcats (22-9, 9-7 Big 12) could not find their offensive rhythm in the season finale, committing 23 attack errors and hitting .072 for the match. Utah (20-12, 9-11 Pac-12), meanwhile, hit .343 and had three of its players reach double-figures in kills.
"We didn't play to our capabilities, and I think we struggled as of late to play to our capabilities," said K-State head coach Suzie Fritz. "It certainly wasn't for a lack of will and trying. We kept trying to get better and fight through it and find some answers to get ourselves back on track. Bottom line, I thought Utah out-played us. They were better than us tonight."
In her final match of her K-State career, redshirt senior Chelsea Keating led K-State with seven kills on a .263 hitting percentage. Two other seniors logged time in their final K-State match with Natali Jones registering four kills, two aces and two blocks while Gina Madonia notched a team-best nine digs.
"This season has probably been my favorite – mainly just because of the girls and how we have gotten along," said Keating. "This year, we have embraced our differences and it has been so much more fun than in the past."
The trip to the NCAA Tournament, 15th in program history and 10th under Fritz, capped a season in which K-State posted its most victories since 2011 and matched its best road/neutral record in program history with a 13-5 mark. The Wildcats had one of their youngest rosters, featuring 14 underclassmen and only seven returning letterwinners from last year.
"We have a wonderful opportunity, especially with the senior class that we are just graduating," said redshirt sophomore Katie Reininger about years ahead with the young group. "They have paved the way for us. They showed us what a good team feels like, and what we need to have in the years to come."
Reininger (5) and freshman Kylee Zumach (6) were the only other Wildcats to have five or more kills in the match along with Keating.
The loss also dropped K-State's all-time record in the first round to 11-4.
Ten attack errors, including seven unforced, by the Wildcats help sway the opening set in favor of Utah. Of the 10 errors, six occurred early, forcing K-State to burn both of its timeouts as it trailed 11-4. The Utes' advantage reached double-figures for the first time at 16-6, and K-State could only close it within seven.
Trailing 13-10 in the second, K-State scored four straight points, including three with two aces and a kill by Jones. The second of Jones' pair of aces gave the Wildcats a 14-13 lead, but following Utah siding out with a kill, the Utes went on an 8-0 run to surge past K-State and take a 21-14 advantage. Utah had three of its four blocks during the second over the run as the Wildcats hit -.026 for the entire set.
Despite K-State and Utah trading point for point early in the third, the Utes were clean on all 24 attacks, including seven kills on their first eight attempts of the set, to put away the Wildcats. K-State had 13 kills, its most in any set during the match, but with the score at 5-5, the Utes scored 11 of the next 16 points to open up a 16-10 advantage. The Wildcats could only trim the deficit to four thereafter, until three Utah kills followed by a Utes block helped it clinch the match.