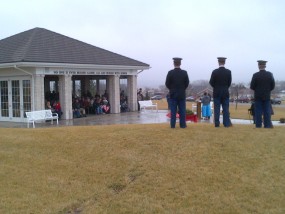 Cold, wet temperatures did not seem to impact the Wreaths Across America ceremony held Saturday at the Kansas Veterans' Cemetery off of Wildcat Creek Road.  The outdoor pavilion was packed, and several members of the public had to stand outside.
Cemetery Manager, Keith Shurtleff provided remarks during the event.  Shurtleff thanked all of the family members of fallen soldiers who donated wreaths.  He said they managed to have enough to put one on every gravestone this year.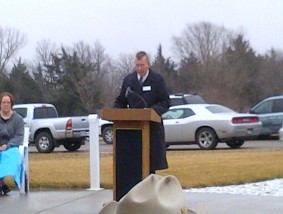 Junction City High School JROTC cadets helped with the ceremony, as seven cadets placed ceremonial wreaths on stands to represent the seven different branches of service.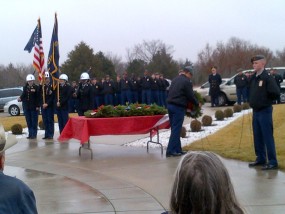 The event concluded with a volley salute and the playing of taps.
This marks the sixth year for the national Wreaths Across America campaign.