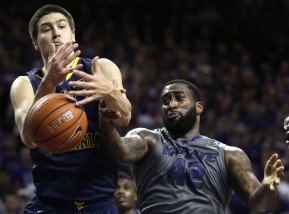 Tarik Phillip scored 12 points and Juwan Staten added 11 and West Virginia took advantage of 25 Kansas State turnovers and 15 missed free throws as the 17th-ranked Mountaineers hung on for a 65-59 victory Tuesday night in Big 12 Basketball action at Bramlage Coliseum.
Just like Saturday's game against Oklahoma State a technical foul was called in the first minute of this game with WVU's Johnathon Holton being whistled just 19 seconds into the game. At first it appeared K-State would take control of the game early by jumping out to a 7-1 lead with 15:57 left in the first half, but West Virginia answered that with a 9-0 surge of its own in the next 4:40 to take a 10-7 lead. K-State would regain the lead a short time later but then suffered a big loss when Nino Williams, their best player since Big 12 play began left the game after logging only eight minutes with some sort of knee injury that Coach Bruce Weber later described as a "tweak" and would not return. Weber said in the post-game press conference that he would find out more about the injury on Wednesday.
For the rest of the half, the two teams went back and forth and both were in the double-bonus before the under four media timeout with fouls seemingly being called every few seconds. After the Mountaineers surged to a 26-19 lead with 3:35 left in the half, K-State closed with a 5-0 run and trailed by just two points at intermission.
The Wildcats extended the run to 11-0 early in the second half and took a 30-26 lead but then West Virginia quickly regained the lead on a three-point basket by Jevon Carter. The game was tied 40-40 with 11:29 left before West Virginia went on a 9-1 run to open up an eight-point advantage in just under two minutes. The closest K-State would get the rest of the way was 51-48 before the Mountaineers were able to create some breathing room despite committing fouls with the lead and giving the Wildcats numerous chances to close the gap. However, Kansas State was just 20 of 35 from the free throw line and that would prove costly as West Virginia closed out the six-point victory for their first win in Manhattan in three tries.
Marcus Foster led K-State and all scorers with 15 points while Wesley Iwundu added 12. While rebounds were fairly even for both sides, The Wildcats committed 25 turnovers to West Virginia's 20 and shot a miserable 57 percent from the charity stripe in a contest where 54 fouls were called and only shot 37 percent from the floor for the game.
Things won't get easier for Kansas State (12-9, 5-3) as the Wildcats will travel to Lawrence on Saturday to face in-state rival and ninth-ranked Kansas for the first meeting of the season with the Jayhawks. Tipoff at Allen Fieldhouse is set for 1 p.m.
Stay connected to all things KSU on the go just text EMAW to 88474
For full video wrap-ups, including analysis, highlights, coaches & player interviews of K-State Football & Basketball check out PowerCatGameday.com