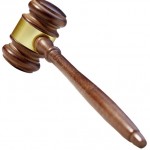 A Fort Riley soldier was bound over following his preliminary hearing in Riley County District Court Friday, Jan. 23.
Spc. Sean Wedgwood, 22, appeared with his attorney, Larry McRell, in front of Judge Sheila Hochhauser at 10:00 a.m. Wedgwood was brought before the court for rape charges in connection with an August 30th incident in which he is accused of assaulting a woman he knew, according to police records.
Assistant Riley County Attorney James Garrison called the victim to the stand for questioning, during which she described her account of the incident, stating that it took place in the Carmike Seth Childs Theater parking lot. The victim was then cross-examined by McRell, after which Judge Hochhauser found probable cause to proceed with another hearing.
Wedgwood's arraignment is set for February 2nd at 9:00 a.m. for further proceedings.