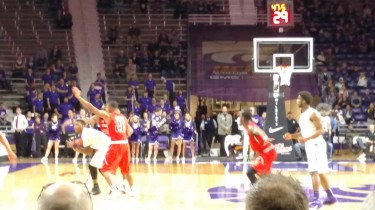 Marcus Foster scored 14 points and Wesley Iwundu added another 10 as the Kansas State Wildcats hung on against a Texas Tech team that refused to quit in a 58-51 victory Wednesday night in Big 12 action at Bramlage Coliseum.
After Texas Tech jumped out to an early 4-0 lead, the Wildcats then went on a 9-0 run in a 3:10 span capped by a thunderous dunk by Iwundu. K-State then used an 11-0 run later in the half to bolt to its largest lead of the game at 26-12. The last four points of that run came on four straight free throws….two each by Foster and Iwundu after Red Raider coach Tubby Smith received a technical foul.
However, that call proved to be a spark to Tech as they battled back to within six points just before halftime and only trailed 28-20 at intermission. The Red Raiders' surge continued in the second half as they pulled to within 34-33 with 14:38 left in the game.
Despite sloppy play by both teams over the next five minutes, K-State managed to stretch its lead back out to 43-35 with 8:38 to play but as has been the case in recent home contests, Texas Tech like Texas Southern, Georgia and TCU before them would not give up and was as close as 49-46 with 3:05 left. From there the Wildcats got key layups by Thomas Gipson and Justin Edwards and a free throw by Jevon Thomas to lead 54-46 with 1:05 remaining.
From there, K-State capped off an 81 percent shooting night from the charity stripe with four more free throws to seal their 10th win of the season. K-State managed to win this game in a battle of two of the better defensive clubs in the Big 12 despite being out-rebounded by Tech 38-30 and 17-10 on the Offensive glass.
Robert Turner led the Red Raiders with 16 points while Devaugntah Williams added 13.
Kansas State (10-7, 3-1) welcomes Baylor to Bramlage Coliseum this Saturday in a very important conference tilt. The 22nd-ranked Bears blew a huge second half lead Wednesday night and even briefly fell behind Iowa State before rallying to beat the 11th-ranked Cyclones 74-73 in Waco. Baylor won both meetings last season with K-State.
Tipoff on Saturday is set for 2 p.m.
Stay connected to all things KSU on the go just text EMAW to 88474
For full video wrap-ups, including analysis, highlights, coaches & player interviews of K-State Football & Basketball check out PowerCatGameday.com