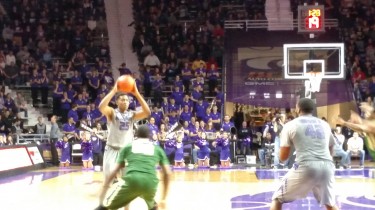 Nino Williams scored 18 points and Marcus Foster added 11 despite being on the bench for a significant stretch of the second half after picking up his fourth foul as Kansas State after trailing by as many as 14 points in the first half staged one of the better comebacks in recent years as the Wildcats defeated 22nd-ranked Baylor 63-61 Saturday at Bramlage Coliseum.
Baylor led by 16 first half points from standout guard Kenny Cherry seemingly could do no wrong at times jumping out to an early 13-2 lead in the game's first seven minutes. Taurean Prince then slammed home a dunk with 8:50 left in the half and Baylor's advantage grew to 24-10. The Bears then went into scoring hybernation in the form of a seven-minute plus drought without a point while K-State used a 12-0 run to cut the deficit to 24-22. However the Bears hit three three-point baskets as part of a 9-2 run to end the half with a 33-24 advantage.
In the second half, the Bears seemed to be in command stretching their lead out again this time to 12 points at 49-37 with 11:27 to play and felt even better about things when Foster went to the bench with his fourth foul. K-State yet again rallied and this time used a 12-0 run in a span of just over four minutes to grab a 54-51 lead with 5:36 left to play.
Baylor immediately ended that run by tying the game on a three-point play but a Williams layup and a three-pointer by Nigel Johnson gave K-State a 59-56 advantage with 3:55 remaining. After Baylor closed to within one point, Johnson's jumper with 2:20 left gave the Wildcats a 61-58 lead. Then after a missed shot, Johnson went skyward to grab a huge offensive rebound and was fouled. He made one of two free throws to make the score 62-58 with just 11 seconds showing on the clock.
Still it was not a secure win after Cherry completed a three-point play with just 5.4 seconds left. After K-State made one of two free throws on its next trip down the floor, the Bears had one last shot to win the game as they gave Cherry the ball. Going to for a tying two-point shot rather than a game-winning three-pointer, Cherry drove most of the length of the floor but his runner missed as time ran out and K-State had secured its fourth straight conference win.
Cherry who has played well at Bramlage throughout his collegiate career, led all scorers with 21 points but scored just five in the second half. Prince added 20 for the Bears who tumbled to their third Big 12 loss in just five games.
The victory was K-State's 12th largest comeback in their program history and the Wildcats defeated Baylor for the first time since Rodney McGruder hit a game-winning three-pointer at the buzzer on March 2, 2013 in Waco.
Kansas State (11-7, 4-1) moved into sole possession of second place in the Big 12 with Saturday's win after West Virginia lost at Texas 77-50.
K-State is next on action Tuesday when they face Iowa State in Ames. Tipoff is set for 6 p.m.
Stay connected to all things KSU on the go just text EMAW to 88474
For full video wrap-ups, including analysis, highlights, coaches & player interviews of K-State Football & Basketball check out PowerCatGameday.com