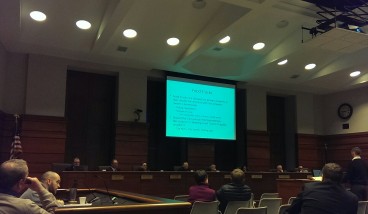 The Manhattan City Commission reviewed the results of a parking garage study downtown during the first regular Commission meeting of the year.
The City hired Bartlett and West to evaluate the feasibility of constructing a garage in the public parking lot at the corner of 3rd and Houston Streets.
Deputy City Manager, Jason Hilgers said there are two options, one includes building a structure in just the parking lot, the other would span the alley behind AJ's Pizzeria.
"That garage would encompass the alley, but it would also put on the table a potential partnership and development agreement with AJ's Pizzeria, Adam Peyton."
Peyton is interested in remodeling AJ's and is considering plans to add storage and residential space above his store. Should the City decide to partner with Peyton, a portion of the cost could ease the burden on taxpayer.
The lot currently holds 90 stalls. The garage in option one includes 368 stalls at a cost of $5.5 million dollars. The garage in option two includes significantly more stalls at 441 at a cost of $6.6 million.
The Commission will continue to discuss financing options, some of which include a sales tax increase, public private partnerships, a transportation benefit district and more.
Parking Fee's in downtown Manhattan may be on the rise in the near future.
Hilgers said the City in conjunction with Downtown Manhattan, Inc. put together a focus group in 2013 made of downtown owners and tenants to study the growing number of parking issues affecting their businesses.
"This group has recommended fines increased from the existing five dollars to 15 dollars in that downtown area."
The Commission and City Staff will consider implementing a color-coded system indicating fee changes and time restrictions in order to increase parking availability.