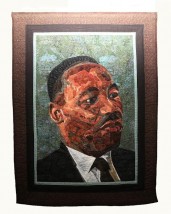 In honor of Martin Luther King Jr Day, local quilter Ronna Tyson has made a quilt to honor King's life and accomplishments. Tyson says she traveled to multiple quilt stores from Bellville to Manhattan and even searched through friends' stashes to gather over 475 small pieces of fabric in order to depict different skin tones. Tyson spent a total of 540 hours on the quilt.
Dr. King visited Kansas State university just four months before his death on April 4, 1968. His speech at Kansas State was the last he gave on a college campus.
The quilt will be displayed at the Flint Hills Discovery Center from Tuesday, January 20 until Sunday, March 1 during normal business hours.