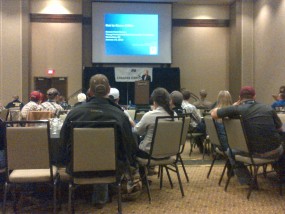 Hundreds of young farmers and ranchers traveled to Manhattan for the three day 2015 Kansas Farm Bureau Young Farmers and Ranchers Leaders Conference.  The event was held at the Hilton Garden Inn.
Friday's presentations were geared towards college students, as a collegiate luncheon and agriculture quiz bowl highlighted the day.  The majority of the conference took place on Saturday with several different workshops and networking opportunities.
The event is set to wrap up on Sunday with a brief introduction of the new Kansas Farm Bureau President, Rich Felts and a closing keynote discussion.
Besides the main events in the conference rooms, several information tables were located in the hallway.  Different organizations and companies spoke to farmers and ranchers, including Staff Attorney for the Kansas Agricultural Mediation Services, Forrest Buhler.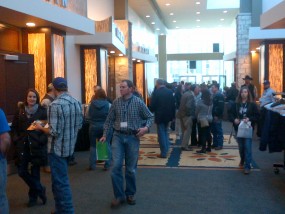 Buhler said the most popular topic he discussed with conference attendees was farm succession planning.  K-State Research and Extension has offered several presentations on succession planning so far, and there are still a couple more scheduled.
As far as the importance of these types of events, Buhler commented, "any type of farm organization and conference is an excellent way to share ideas and get the latest information from experts".