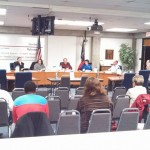 The City of Manhattan approached the Manhattan Ogden USD 383 school district about the possibility of a bike pathway at Manhattan High School east campus, which would provide access to Houston Street.
Associate Superintendent, Robert Seymour presented the item to the board.  He mentioned this would be a ten year easement and would be no cost to the district.
Some board members expressed concerns, including Board Member, Curt Herrman.  He said he would not be comfortable with putting a bike lane in a parking lot, as there could be safety concerns and they would lose parking.
Other board members, including Aaron Estabrook and David Colburn were in strong support of the project.  Estabrook mentioned he did not believe the safety concerns were a fair argument, as there are other safety issues that need to be improved at the location as well.
Ultimately, the item was approved on a 6-1 vote, with Herrman opposed, and the board will have additional discussion about the topic during their next meeting.  Herrman stated he was not completely opposed to the project, he just felt the board needed additional details before approving the item.
In other business, the board unanimously approved two bid requests-one for paper for the entire district and the other involving a Fluke Truview Optiview System for the district's network.