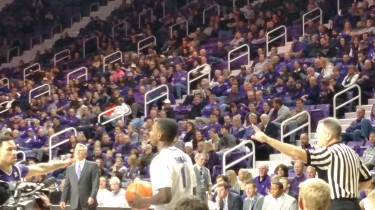 After a frustrating week which saw him score a combined two points in losses to Georgia and Oklahoma State, Kansas State Sophomore guard Marcus Foster saw Wednesday night's game against TCU as an opportunity for redemption.
Unaccustomed to coming off the bench, Foster did just that and while he wasn't scoring consistently he led the Wildcats with 23 points and made several critical free throws down the stretch as K-State hung on for a 58-53 victory in the Big 12 home opener at Bramlage Coliseum.
As has been the case in recent losses, the Wildcats started fast bolting out to an early 7-0 lead before watching TCU storm back with eight unanswered points for what turned out to be their only lead of the night at 8-7. Foster then came in and knocked down his first two field goals including one three-point basket to key a 5-0 run and allow K-State to regain the lead at 12-8.
For the rest of the half, Kansas State coming into the game on a rare three-game losing streak would widen their lead to as many as six points twice only to see the Horned Frogs draw closer and trail just 22-19 at halftime.
Early in the second half with K-State leading by just three points once again, Foster stepped up and drained back-to-back three-pointers to stretch the lead to 32-24 with 16:29 left in the game. The Cats lead grew to 36-26 before TCU made another run to slice their deficit to 36-33 with 11:24 left thanks to a 7-0 surge of their own. Over the next seven minutes the Wildcats outscored the Horned Frogs 10-4 and appeared to have the game under control with a 46-37 advantage with just over four minutes left.
However, TCU would simply not go away, cutting the lead to 48-43 with 1:47 left. It was at this point in the game when Foster would prove valuable in a different way as he knocked down five of six free throw attempts and Wesley Iwiundu added a pair from the charity stripe and K-State led 54-47 with 32 seconds on the clock. However a couple of defensive lapses and a turnover led to easy buckets for TCU and they were within 58-53 with under 10 seconds left which just for a fleeting moment had Wildcat fans flashing back to the December 28 meltdown against Texas Southern.
However, the Horned Frogs would miss their final shot and K-State held on for the five-point victory. While admitting later that his attitude and self-confidence had taken a hit in the last week, Foster was the lone Wildcat in double figures with his 23 points. Iwundu added nine points and Nino Williams had eight in a gutsy effort despite twice falling to the floor in pain during the second half.
Trey Zeigler led TCU with 19 points while Kyan Anderson who had a huge game against K-State last season in Bramlage was held to eight points.
Kansas State (8-7, 1-1) will be back on the road this Saturday when they travel to Norman to take on a vastly improving Oklahoma team. The Sooners are coming off a resounding 70-47 win at Texas in their most recent outing on Monday night. Tipoff at Lloyd Noble Center is set for 6 p.m.
Stay connected to all things KSU on the go just text EMAW to 88474
For full video wrap-ups, including analysis, highlights, coaches & player interviews of K-State Football & Basketball check out PowerCatGameday.com