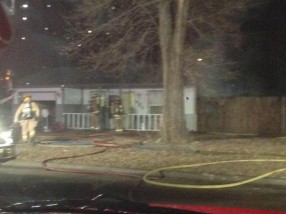 Fire crews responded to a structure fire on Friday night, which resulted in thousands of dollars worth of damage.
Around 8:30 p.m., the Manhattan Fire Department was dispatched to 801 Pottawatomie Avenue for a report of a structure fire.  Upon arrival, crews found a one-story residence with fire and smoke showing on the exterior wall of the structure, as well as a shed.  The fire reached a second alarm before it was contained in 30 minutes.
A total of 21 firefighters on seven fire apparatus responded.
The residence was occupied at the time of the fire, and all occupants were able to exit without injury.  The single family structure suffered an estimated loss of $50,000 to the house, and $3,000 to it's contents.
The fire cause is under investigation at this time.