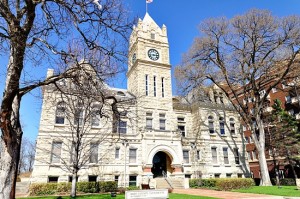 A preliminary hearing was held on Friday, Jan. 30 in Riley County District Court for a first-degree attempted murder case. Samuel Dartez, 30, of Manhattan appeared in front of Judge William Malcolm in connection with a November incident in which he allegedly stabbed a woman about the face and neck.
Several witnesses took the stand during the hearing, including the woman who contacted emergency personnel and the RCPD dispatcher who took the call.
Riley County Attorney Barry Wilkerson and Assistant County Attorney Jeremy Crist presented several pieces of evidence to the court, including photos of the crime scene and the victim's wounds. The attorneys also played a recording of the 911 call placed by a witness following the incident, in which the victim is heard repeating pleas for help.
Dartez' next court appearance has been set for Feb. 9 at 9:00 a.m.