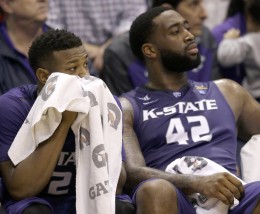 Marcus Foster after the loss to KU:
Thomas Gipson after the loss to KU:
LAWRENCE, Kan. (AP)– Perry Ellis had 16 points and 12 rebounds and No. 9 Kansas bolted to a big lead in the opening minutes Saturday in a 68-57 victory Saturday over Kansas State.
Ellis had a double-double at halftime, with 13 points and 10 rebounds as the Jayhawks (18-3, 7-1 Big 12) beat their state rival for the 49th time in the last 53 games. Since the inception of the Big 12 Conference in 1996, Kansas is 41-4 against the Wildcats.
Kansas, ahead by one game in the Big 12 coming into the game, got 14 points from Wayne Selden and 10 from Frank Mason.
Thomas Gipson had had 19 points and seven rebounds and Marcus Foster scored 19 points for Kansas State (12-10, 5-4). Kansas State shot 17 percent in the first half.
Kansas broke to a 14-1 spree and led 33-17 at halftime. In the first 20 minutes, The Jayhawks made nine of their first 14 shots, including back-to-back 3-pointers by Brannen Greene and Mason. Kelly Oubre sneaked under the basket for a layup off an inbounds pass that made it 18-5 and then Cliff Alexander rebounded one of the 29 shots Kansas State missed in the first half and Ellis finished off the run with layup.
Kansas State hit only six of 35 shots in the first half, matching the 17.1 percent it shot in the first half at Missouri in 1995, fourth worst in school history.
Stephen Hurt came off the bench and hit two quick 3-pointers in the final minute for Kansas State, making the final margin more respectable.
Gipson's basket shrank the lead to 58-46, but Selden's one-handed follow shot and Mason's gliding layup put the Jayhawks back on top 62-46 before Marcus Foster drained a 3-pointer for the Wildcats at the 4:37 mark.
A few minutes earlier, Wesley Iwundu, Kansas State's promising 6-7 sophomore, hit back-to-back baskets to cut the lead to 47-34 but then was whistled for his third foul.
TIP-INS
Kansas State: The Wildcats improved to 62.5 percent shooting in the second half. But they never got closer than 11 points after their cold first half. … In three games as Kansas State coach, Bruce Webber has lost in Allen Fieldhouse by 21, 26 and 11 points
Kansas: Coach Bill Self is 24-4 against Kansas State. After getting outrebounded by 10 in their previous games, the Jayhawks worked hard on the boards during practice and grabbed 42 rebounds to K-State's 37.
Stay connected to all things KSU on the go just text EMAW to 88474
For full video wrap-ups, including analysis, highlights, coaches & player interviews of K-State Football & Basketball check out PowerCatGameday.com