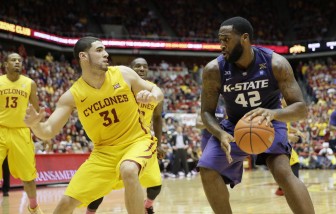 AMES, Iowa (AP)– Monte Morris hit a floater with 37 seconds left and No. 9 Iowa State held off Kansas State 77-71 on Tuesday night, moving into a tie for first place in the Big 12.
Jameel McKay had 15 points off the bench for the Cyclones (14-3, 4-1), who joined No. 11 Kansas atop the league. Iowa State beat Kansas in Ames 86-81 on Saturday.
Kansas State turned it over at mid-court after Morris put the Cyclones ahead 73-69. That miscue allowed Iowa State to seal the game at the line.
Nino Williams had a season-high 22 points for Kansas State (11-8, 4-2), whose winning streak was snapped at four games.
Kansas State made a surprising early run through the Big 12 by playing great defense. The Wildcats held their last four opponents to just 57 points on 38.3 percent shooting per game.
K-State had yet to see an offense as potent as Iowa State, the Big 12's leader at 80.3 points per game entering play.
But the Wildcats pushed the Cyclones for over 39 minutes with some offense of their own.
Williams turned a steal into a layup to help K-State jump ahead 54-49, as the Wildcats hit 6 of their first 10 shots to open the second half.
Iowa State finally retook the lead, 71-69, with 2:48 left on a pair of Naz Long free throws following a crucial block by Abdel Nader. McKay then grabbed a loose ball and wisely called timeout with 1:09 left and the Cyclones still up by two.
Georges Niang had 14 points and Morris and Nader each had 11 for Iowa State.
Kansas State was 15 of 16 from the free throw line, and Marcus Foster scored 16 points. But the Wildcats went four minutes without scoring down the stretch, and they allowed their most points since Purdue scored 79 on them on Nov. 24.
TIP-INS
Iowa State: The Cyclones are 4-1 in the Big 12 for the first time since 1999-2000. They won the Big 12 regular season title that season. Iowa State has also won 17 straight at home.
Kansas State: Williams scored 10 points in the opening 7:08. The Wildcats finished the first half on a 9-3 run to close to within 39-38.
UP NEXT
Iowa State visits Texas Tech on Saturday.
Kansas State hosts Oklahoma State on Saturday.