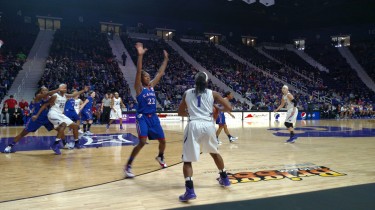 Ashia Woods had 15 points and Brianna Craig added 13 as Kansas State overcame a 14-point first half deficit to defeat Kansas in the Sunflower Showdown 58-52 before 6,362 Sunday afternoon at Bramlage Coliseum.
KU jumped out to an 18-4 lead early in the first half as Chayla Cheadle was the early star on Offense for the Jayhawks. The Wildcats then went on a 19-10 run and closed to within 28-23 before KU went on another surge and led 35-28 at halftime.
Early in the second half, K-State had pulled to within 39-36 and had momentum when a scary moment occurred after Haley Texada went down with an injury after colliding with KU's Chelsea Gardner during a scramble for a loose ball. Texada was down for several minutes and eventually had to be removed from the court on a stretcher. While Coach Jeff Mittie didn't want to speculate on Texada's injury after the game, Texada was undergoing a scan at Mercy Regional Health Center, was reported to have movement in all extremities and was also talking.
K-State then grabbed its first lead since the early moments of the game at 40-39 with 11:03 remaining. For the next few minutes both teams were hampered by sloppy play and that allowed the Jayhawks to grab a 44-41 lead. KU then missed a three-point basket that would have given them a six-point lead and the Wildcats converted on the other end to pull to within one point and touching off an 8-0 run that gave K-State a 49-44 advantage with 2:50 left. The last of those points came when Woods inadvertently made a basket when it appeared she was trying to pass to a teammate down low.
The Jayhawks still had some life when Asia Boyd converted a four-point play to pull KU to within 52-49 but almost immediately Bri Craig responded with a three-pointer to put the Wildcats up by six points and eventually allow them to win the game.
Kindred Wesemann was the third K-State player in double figures with 11 points while Cheadle led KU with 15 points, Gardner had 13 and Natalie Knight had 12 points.
K-State snapped a two-game losing streak at Bramlage Coliseum against KU after having won 11 straight from them in Manhattan between 2002 and 2012. With the victory the Wildcats also matched their victory total from all of last season.
Kansas State (11-3, 1-2) will next be in action on Wednesday at Oklahoma State, tipoff is set for 7 p.m.
Stay connected to all things KSU on the go just text EMAW to 88474
For full video wrap-ups, including analysis, highlights, coaches & player interviews of K-State Football & Basketball check out PowerCatGameday.com