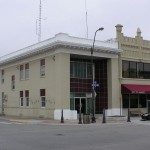 The Wamego City Commission approved Oz Museum improvements at Tuesday's meeting. Columbian Theatre Executive Director Clint Stueve, Columbian Foundation Board members Bunny McCloud and Betsy Riblet addressed the Commissioners, requesting permission to proceed with fundraising efforts to improve the facade of the Oz Museum. According to City Manager Merl Page, their request and proposal falls outside the zoning and signage regulations, so the City rather than the Planning Commission can grant permission. Approval was given by a vote of 5 to 0.
In other business, the Commission approved the recommendation by Page to require the Planning Commission to hold a hearing to review the text of zoning regulations to amend the requirements for certain municipal owned utility structures to be exempt from set-back requirements of the code. Page said he was looking through the zoning regulations and the definition of a building was very broad, and he realized that utility structures would not meet the existing set-back requirements. Approval was given again by a vote of 5 to 0.
The Commission approved the purchase of a new Police vehicle. At Tuesday's meeting, City Manager Merl Page went over the bids received to trade the 2012 Police unit for a 2015 Dodge Charger. Page recommended accepting the bid from Nemaha Valley Motors for the purchase price of $15,655 after add-ons. He said they budgeted $25,000 for this vehicle.
Page also presented the bid for 2 – In-Car cameras in the Police vehicles from CoBan for a cost of $8,300. He said they budgeted $15,000 for these cameras. Approval was given in both cases by a vote of 5 to 0.
In other business, the Commission approved the donation of 2 – pool parties as an auction item for this year's Diamonds & Denim Fundraiser that benefits the Wamego Health Center. They also approved a sponsorship of $1,000 to help offset fundraising costs.
Page asked for the authority to contact insurance agents in order to secure a list of 'agents of record ' in advance of a request for proposal on the City's Property and Casualty Insurance. Page said the current bid proposal expires on April 1st. Approval was given by a vote of 4 to 1, with Commissioner Bob Morse abstaining.
Page announced that the Commission position for the expired term of Larry Fechter is up for election and the deadline for filing is January 27th. Commissioner Tom Beem currently holds that position.