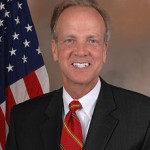 As a member of the U.S. Senate Appropriations Committee, U.S. Senator Jerry Moran (R-Kan.) has announced that the Fiscal Year 2015 Homeland Security Appropriations Bill released by the House Appropriations Committee on Jan. 9, 2015 includes $300 million for construction of the National Bio and Agro-Defense Facility in Manhattan, Kan. This amount is equal to the funding passed by the Senate Appropriations Committee last year, and builds on the $404 million appropriated for the construction of NBAF in the Fiscal Year 2014 Omnibus Appropriation Bill.
"As a member of the Senate Appropriations Committee, I am committed to making certain NBAF remains a top priority," Sen. Moran said in a press release Friday. "This $300 million investment mirrors the funding passed out of the Senate Appropriations Committee last year and solidifies Washington's support for the construction of a modern, world-class facility in Manhattan, Kansas, which will protect Americans against biological threats."
The state-of-the-art biosecurity lab is to be built adjacent to Kansas State University, and will protect the national economy by researching foreign animal disease threats, which could damage the animal and agricultural industries. It is also expected to create approximately 326 permanent employment positions, and support another 757 construction jobs, fostering economic development in Kansas.
"I am hopeful this final funding will soon be passed by both Houses of congress and ultimately help create jobs for Kansans in the fields of engineering, science and technology," he said. "The talented young men and women who grow up here will have more opportunities to work and live in Kansas, which is poised to become a research epicenter."