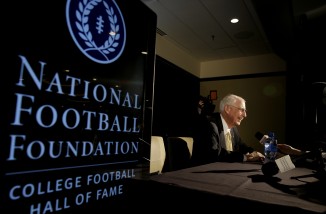 Kenny Lannou, K-State Athletics Communications
DALLAS, Texas – Bill Snyder, the architect of the "greatest turnaround in the history of college football," will become just the fourth person in the history of college football to be inducted into the College Football Hall of Fame as an active coach as the legendary K-State coach was announced today as part of the National Football Foundation's College Football Hall of Fame Induction Class of 2015.
A five-time national coach of the year honoree and seven-time conference coach of the year recipient, Snyder joins former Youngstown State and Ohio State coach Jim Tressel as coaches to be inducted into the Class of 2015 and also joins Bobby Bowden (Florida State), Joe Paterno (Penn State) and John Gagliardi (St. John's) as active coaches to be enshrined.
Other members of the 2015 class include Nebraska linebacker Trev Alberts, Oklahoma linebacker Brian Bosworth, Arizona State linebacker Bob Breunig, Millsaps (Miss.) defensive lineman Sean Brewer, Pittsburgh offensive tackle Ruben Brown, Florida split end Wes Chandler, Notre Dame split end Thom Gatewood, Yale running back Dick Jauron, Michigan State halfback Clinton Jones, Washington offensive tackle Lincoln Kennedy, Michigan running back Rob Lytle, Marshall quarterback Michael Payton, Kentucky defensive end Art Still, Texas Tech linebacker Zach Thomas and Texas running back Ricky Williams as the announcement was made as part of the College Football Playoff National Championship festivities in Texas.
Snyder has compiled an amazing 187-94-1 record in his 23 years as the helm of the Wildcat program. He ranks 32nd all-time in victories among FBS coaches and continues to climb the ladder with each win.
"Obviously this is a very humbling honor, and I am certainly grateful to those who nominated me, those who voted for me and for Steve Hatchell and the National Football Foundation and Hall of Fame for all they have done for our remarkable game of college football," said Snyder. "It is, however, not a one-person honor but one for a large collection of wonderful people who have had a major impact on our program and any successes that I may have had. Recognition such as this would not have been possible for me if it wasn't for my mother's and grandfather's guidance as a young boy, nor for my immediate family (wife Sharon, daughters Shannon, Meredith and Whitney and sons Sean and Ross) who have sacrificed so very much over the years. Sean has been instrumental in our successes as a player and a coach and as well the all-encompassing job of handling our operations. My daughter, Meredith, overcoming a tragedy in her life has given me constant inspiration, and of course the players, coaches and support staff I have been associated with over the years have been amazing, including my high school coaches and Norris Patterson and Hayden Fry.
"The opportunities given to us by our central athletic administration (past and present) have been a significant part of our successes here at Kansas State as has the fan (family) support we have had from our student bodies and the Kansas State people throughout the country. All inclusively, they represent the passion, caring and love of the Wildcat Football Family."
Called the "coach of the century" by hall of fame coach Barry Switzer, Snyder's accomplishments at K-State are nearly unthinkable considering what he inherited during his first tour of duty beginning in 1989. The Wildcat program was in the midst of an 0-26-1 run when he was hired and had been just one bowl game in its first 93 seasons.
During a the span of 11-straight bowl seasons (1993-2003), Snyder's Wildcats won nearly 80 percent of their games, chalking up 109 victories – a staggering 10 wins per season – and making K-State the nation's second winningest program over that period. His first tenure included a Big 12 Championship in 2003 in a 35-7 win over No. 1 Oklahoma, while his 1998 team held a No. 1 ranking in the BCS standings. Snyder retired from coaching prior to the last game of the 2005 season, and the Wildcats sent him out with a 36-28 come-from-behind home victory over Missouri in the first game of the newly renamed Bill Snyder Family Stadium.
"The entire K-State Nation joins President Schulz and me in congratulating Coach Snyder on being named a NFF College Football Hall of Fame member and being recognized as one of the top coaches in the history of the game," K-State Athletics Director John Currie said. "The impact he and Sharon and their family have had on Kansas State University and Manhattan since his arrival in 1989 is incalculable, and his leadership and mentoring are truly remarkable and inspirational. Coach Snyder's legacy of integrity and commitment to excellence transcends not only football but perhaps all of intercollegiate athletics and higher education."
Following a three-year hiatus, Snyder returned to the sidelines in 2009, and it has been more of the same as his teams have accumulated a 47-24 record through six seasons and currently lead the Big 12 in conference wins since 2011 with 27.
The Wildcats are in the midst of five-straight bowl seasons, including a pair of 10-win campaigns in 2011 (10-3) and 2012 (11-2). The 2012 Wildcats captured the program's second Big 12 Championship and held another No. 1 national ranking. After turning 75 years old on Oct. 7 – which qualified him to be included on this year's ballot – Snyder's team promptly traveled to No. 11 Oklahoma and pulled out a 31-30 victory, a key component of the Wildcats' nine-win season in 2014.
"What Coach Snyder has done at K-State is very deserving of this tremendous honor," said Jordy Nelson, former record-setting Wildcat and 2014 NFL All-Pro wide receiver. "Turning the program around during his first tenure certainly warrants this distinction, and now for him to do it a second time and win conference championships and compete for national titles once again is a true testament of his work ethic and passion for the program. I am very happy for Coach Snyder and K-State, and it is an honor for me to have played for him and be a part of what he has accomplished."
Snyder and the rest of the Class of 2015 will be inducted during the NFF Annual Awards Dinner in New York City at the Waldorf Astoria on Dec. 8, 2015.
To be eligible for the ballot, coaches must have coached a minimum of 10 years and 100 games as a head coach; won at least 60 percent of their games; and be retired from coaching for at least three years. However, active coaches over the age of 75 are eligible, as is the case with Snyder.
"This is such a fitting honor for a tremendous man who has represented Kansas State University, the state of Kansas and all of college athletics with the utmost class and integrity," said K-State President Kirk Schulz. "Coach Snyder, in so many ways, epitomizes the core values central to our University's founding and ongoing quest for excellence through a tireless work ethic, an unrelenting commitment to improvement and never giving up.​ We are so proud of him on behalf of the student-athletes, the entire K-State family and countless others who have benefitted from his positive leadership."
Stay connected to all things KSU on the go just text EMAW to 88474
For full video wrap-ups, including analysis, highlights, coaches & player interviews of K-State Football & Basketball check out PowerCatGameday.com