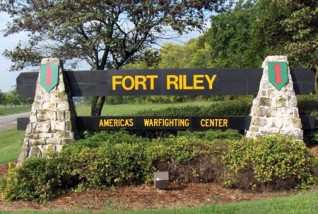 FORT RILEY, Kansas – Soldiers from the 2nd Battalion, 16th Infantry
Regiment, 4th Infantry Brigade Combat Team, 1st Infantry Division, have
begun the process of redeploying back to Fort Riley following a successful
eight-month deployment to Djibouti in the Horn of Africa to support
Operation Enduring Freedom.
The first Soldiers arrived Jan. 27 at Fort Riley and the remaining members
of the "Rangers" battalion will return in the next few weeks. Redeployment
ceremony dates and times will be announced as those ceremonies approach.
Soldiers from the regiment formed Task Force Ranger in Djibouti, taking over
for the 1st Combined Arms Battalion, 18th Infantry Regiment, 2nd Armored
Brigade Combat Team, 1st Inf. Div., at Camp Lemonnier.
The 2nd Bn., 16th Inf. Regt., cased colors on Fort Riley June 2, 2014, ahead
of their deployment. While deployed, the Rangers took part in an Asymmetric
Warfare Group at Camp Lemmonier, completed 52 security cooperation missions,
trained almost 6,700 service members from four partner nations and continued
their partnership with the Djiboutian Joint Military Academy, providing
hands-on instruction.
Soldiers of the 4th IBCT regularly deploy in Regionally Aligned Force, or
RAF, missions across the continent of Africa. These missions build
long-lasting relationships that promote U.S. interests and develop local
military forces' military capabilities for self-defense and regional
stability.