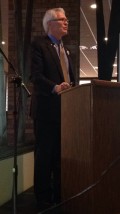 U.S. Attorney Barry Grissom made an appearance Monday to speak at the Martin Luther King, Jr. Prayer Breakfast at the Four Points by Sheraton Hotel. During his presentation, Grissom reflected not only on the impact King had on the Civil Rights Movement, but also on the issues of inequality people of color are currently facing in America.
"My boss, Eric Holder, and my ultimate boss, the President of the United States, are both African-American," Grissom said. "And you think you've made great progress. Then, all of the sudden, last August we had Ferguson."
Thanks to his upbringing in Memphis, Tenn. during what he referred to as "turbulent times" in the 1960s, Grissom has developed a passion for issues of social rights. He also credits his childhood interest in the film adaptation of "To Kill A Mockingbird" as a major influence in his career.
"I thought, 'Wouldn't it be nice to be something like Atticus Finch?'" he said. "'Wouldn't it be great to be somebody who stood up for the right stuff?'"
During the event, Grissom referenced King's famed 1968 speech in K-State's Ahearn Field House, as well as the role that Kansas played in the Civil Rights Movement due to the aftermath of Brown v. Board of Education in Topeka. He also stated that although segregation has long been outlawed in America, racial inequality still exists largely through institutionalized oppression and economic disenfranchisement.
"Tragically, there are still many pockets in America where people are trapped in a vicious cycle of poverty, criminality and incarceration," he said. "Negative contact with law enforcement is disproportionately experienced by communities of color."
Grissom added that according to statistics, men of color are 6 times more likely to be victims of murder than white men. Additionally, he said, thirty-eight percent of the populations in our prisons are African-American, although they only represent slightly less than 13 percent of our nation's population overall.
However, he said, law enforcement is currently attempting to better these statistics by creating positive interactions between officers and young people of color, which he said he believes has the ability to help rebuild trust in the justice system.
Grissom closed with a quote delivered by Robert Kennedy the night King was assassinated, which he said he feels is still relevant today.
"'What we need in the United States is not division,'" he quoted. "'What we need in the United States is not hatred. What we need in the United States is not violence and lawlessness, but is love, is wisdom, and compassion toward one another, and a feeling of justice toward all those who still suffer in our country.'"