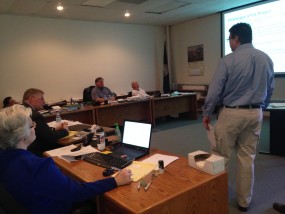 Representatives from Westar Energy made an appearance at the Pottawatomie County Commission meeting on Monday, Jan. 12 to answer questions regarding the potential rerouting of a high-power transmission line. Project Manager Dave Peck and Director of Transmission and Sub-Station Construction Paul Wallen presented information about the line-routing process to the commissioners, including an overview of the potential directions it could take.
Although the construction of the new line is necessary to fill a regional need for more reliable electric services, many Pottawatomie County land owners have expressed their distaste for a complete overhaul of the route through dozens of letters to the county commission. During Monday's meeting, Commissioner Pat Weixelman questioned whether Westar would value the public's opinion when submitting its preferred route to the Kansas Corporation Commission early next month.
"We appreciate all of the public input we've gotten on the line," said Wallen. "We're going to work very hard to incorporate the input into the preferred route."
In other business, the Jan. 12 meeting also marked the end of Commissioner Gary Yenzer's term on the Pottawatomie County Commission after his successor, Dee McKee, was sworn in to her position on the board. During his term, Yenzer was instrumental in the construction of Pottawatomie County's Justice Center, a project which he said he hopes the community shares his pride for.
"I enjoyed my time working here," Yenzer said of his time as a county commissioner. "I enjoy working for the taxpayers of the county."
Although McKee will be forced to hit the ground running in her new position, she maintained that she is excited for the chance to serve the citizens of Pottawatomie County.
"We really have opportunities," said McKee. "Sometimes, it seems like you have to go through the fire before you get to the bright spot on the end, but I think it's going to be fun, and I'm looking forward to it."