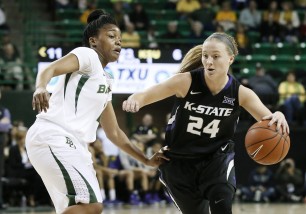 When these two teams met just a few weeks ago at Bramlage, an extended cold shooting streak led to a 23-0 Baylor run and an eventual 74-44 victory for the visitors.  In the rematch, Jeff Mittie's squad was determined not to let themselves to fall too far behind.  And for a good chunk of the game they did just that.
K-State used some hot shooting from long distance, including a clutch three pointer at the first half buzzer from Kindred Wesemann, to stay within striking distance of the Lady Bears.  With just 15 minutes left in the game, Baylor led by just 11 at 44-33, and head coach Kim Mulkey implored the crowd at the Ferrell Center to get loud.
The move worked.  Feeding of the energy of the home fans, Baylor slowly but surely picked up the pace and began to pull away, winning the contest 68-46.
Haley Texada paced the Cats with 13 points.  The senior guard also had a pair of rebounds and 2 assists.  Wesemann had 8 points, and Ashia Woods added 7.  This despite the fact that K-State was held to it's worst shooting output of the season at just over 27%.  They were, however, 30% from beyond the arc…somewhat uncharacteristic of this year's team.  Mittie was quick to praise his defense for keeping the Cats in the game.
"We got our hands on a lot of basketballs", said the Wildcats' first year coach.  "I did think we were better defensively" (than in that first meeting).
Baylor (18-1/7-0) was led by Alexis Prince with a game-high 18 points.  They also got double-digit production from Khadijah Cave and Kristy Wallace.  It was Wallace who came off the bench in the earlier meeting to ignite that big Lady Bear run.
The Wildcats are now 11-7 overall, and 1-6 in Big 12 play.  They finish a two game road trip and head back to Bramlage to host Oklahoma State on Wednesday night at 7pm.  OSU won the first game in Stillwater 69-47 back on January 14th.  It's the return of "Bacon Night", with K-State students who attend getting a free package of bacon.  K-State Athletics will also be offering "All You Can Eat" seats for the contest with the Cowgirls.  Call 800-221-CATS or visit kstatesports.com for tickets.
The Wildcats are very much looking forward to returning home.  "We saw some improvement in some good areas", said Mittie.  "Hopefully, we can build off it".