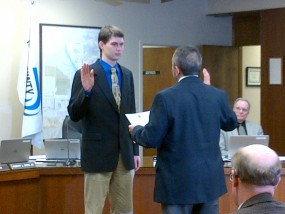 Ben Wilson (pictured on the left) officially took his seat as Riley County's 1st district commissioner after being sworn in Monday morning by County Clerk Rich Vargo.
Riley County District Court Chief Judge Meryl Wilson (first picture), Judge David Stutzman (second picture) and Judge John Bosch (last picture) all were sworn in as well.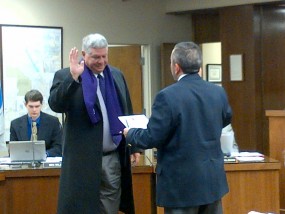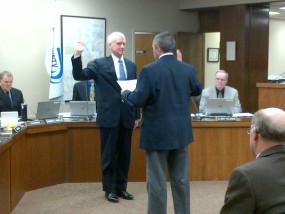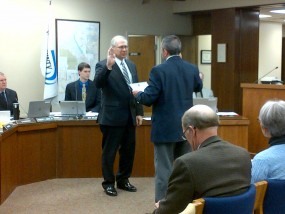 Once everyone was sworn in, the commission took the time to reorganize.  Commissioner Ron Wells was voted as the new chair, and Wilson will serve as vice chair.
—————-
Commissioners revisited a topic that had previously brought up some concerns.  County Health Department Director, Brenda Nickel shared additional information about her request to close the health department quarterly for professional development training.
The commission had previously requested that Nickel consult other health departments, as well as the other county department heads.
Nickel returned with the results, and 41% of department heads answered her questions.
Nickel also revised her original request for five different professional development dates, and shared a calendar outlining four days instead.  These dates would be in March, June, September and December.
The commission unanimously approved this request.
——————–
The board of county commissioners will not be in session on Thursday, as they are traveling to a Kansas Association of Counties workshop in Topeka.  They also will not meet on the following Monday, in observance of Martin Luther King Jr. Day.