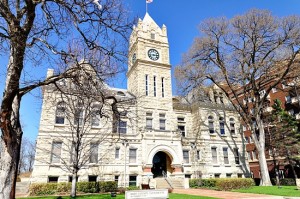 A Manhattan man facing three charges, including aggravated arson, made a plea in his case in Riley County District Court Judge, John Bosch's courtroom Monday morning.
Ivan Beaulieu faces aggravated arson, criminal damage to property, and theft after two November incidents and one September incident.
Beaulieu appeared alongside his attorney, Lora Ingels.  Prosecuting State Attorney, Kendra Lewison stated they had reached a plea agreement which encompasses all the cases and consolidated them.
Judge Bosch went through the details of the plea agreement, and Beaulieu pled "no contest" to all three charges.
After Beaulieu made his plea, Bosch set sentencing for March 9th at 10:30 a.m.
Ingels also addressed bond, and asked for a reduction.  Bosch granted Beaulieu a reduction down to $3,000 cash.  When originally arrested, Beaulieu's bond was set at $50,000.