By Chris Kutz, K-State Athletics Communications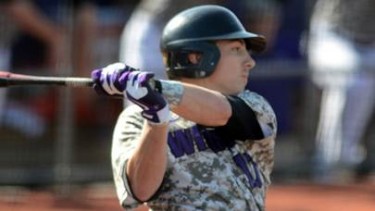 SURPRISE, Ariz. – The K-State baseball team rallied from a pair of deficits on Friday, including a 6-0 hole after the second inning and a 9-7 shortfall in the top of the ninth, but the Wildcats surrendered a walk-off single in the ninth to lose to Oregon State, 10-9, at Surprise Stadium.
After beating Utah the previous night with a walk-off hit of its own, K-State (3-3) fell victim to the same type of result in its second game of the weekend as the Beavers (4-2) staged their ninth-inning rally starting with Gabe Clark's single off Jordan Floyd to start the frame. Logan Ice followed with a sacrifice bunt off Kyle Halbohn to move pinch-runner Christian Donahue to second, who then moved to third on a groundout. With two outs and the count at 0-1, pinch-hitter Billy King drove a Halbohn pitch to left field to win the game.
"Great effort by our kids," said K-State head coach Brad Hill. "We got down big like we did and worked ourselves back into it, took a lead, and came back to tie it in the ninth – all the credit to our kids."
The offensive affair featured a combined 27 hits from both sides, with a season-high 13 by the Wildcats. The key hits that sent it to the bottom of the ninth came off the bats of Max Brown and Alex Bee with two outs. Brown blooped a 0-2 pitch into shallow center field that plated Carter Yagi and made it 9-8 while Bee followed up with a game-tying RBI double that scored pinch-runner Sam Chadick.
Brown and Bee drove in five of K-State's nine runs, including the two in the ninth as well as another pair in a five-run fifth inning that flipped a 6-2 Wildcat deficit into a 7-6 lead. The Wildcats rattled off five-straight hits to start the fifth, including three of the run-producing variety by Shane Conlon, Steve Serratore and Brown. Bee drove in the game-tying run with a sharply-hit groundout that scored Serratore, and two batters later, Clayton Dalrymple executed a safety squeeze to give K-State the one-run advantage.
Brown finished with three RBIs on three hits, both matching his career-highs. Bee, meanwhile, finished the afternoon 2-for-5 to go with his pair of runs driven in.
Carter Yagi joined Brown and Bee as the three Wildcats with multiple hits as the third baseman reached base safely four times with two hits, a walk and a hit by pitch. The senior also scored three runs.
K-State was forced to climb out of a half-dozen run deficit when Oregon State broke out for six runs off Wildcat starting pitcher Levi MaVorhis in the second inning. The Beavers, who put runners in scoring position in the first but came away with no runs, had their first five batters reach base, with four using the benefit of hits. The frame's first run scored via a fielding error by Bee on a dropped throw at home as Yagi attempted to put out an advancing runner from third on a ground ball. The inning went on to feature six hits total, including four extra-base hits. A two-run home run by Oregon State's KJ Harrison capped the scoring and chased MaVorhis from the game.
The Wildcats quickly responded with a two-run third inning, started by a leadoff double courtesy of Dalrymple. Yagi tallied his lone RBI of the game with a single to score Dalrymple, and a Brown infield single with the bases loaded cut the Oregon State lead to 6-2.
While K-State took the one-run lead in fifth, K-State reliever Brandon Erickson kept the Wildcats in the game by throwing 3 2/3 innings of one-run baseball. At one point, Erickson struck out three in a row and did not allow a runner to move to second base after the second batter he faced, Ice in the second inning, hit a double.
It was Erickson's walk to start the sixth inning that resulted in one of two runs for Oregon State as the Beavers regained the lead at 8-7. Oregon State added another run in seventh when Clark hit one of four Oregon State's triples to start the inning and came around on an RBI single by Ice off Floyd.
Floyd took the loss, his second of the season, after being charged with two runs on four hits in 2 2/3 innings.
Mitch Hickey took the win for Oregon State despite the freshman allowing two runs on two hits and a walk in his one inning pitched.
Oregon State's Austin Woodward staved off the K-State offense by throwing three perfect innings from the sixth through eighth innings.
The Wildcats will return to action on Saturday in a new ballpark when they take on Washington at Sloan Park, spring training home of the Chicago Cubs, in Mesa. Colton Kalmus will make his first start of the season for K-State and face Huskies right-hander Josh Fredendall.