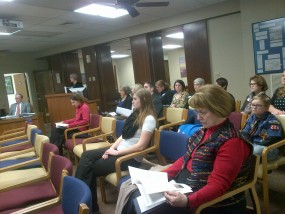 The 2014 annual report and 2015 strategic vision plans highlighted Monday evening's Riley County Board of Health meeting.  This is the second year the board of health has been in place for the county and these meetings are conducted three times every year.
County Health Department Director, Brenda Nickel was the primary facilitator for the meeting, which was held in the county commission room.  Nickel shared details about the public health advisory council, which has recently added some new members.
The department's annual report was presented by Nickel, but the individual program leaders within the department shared their own 2014 reports and 2015 goals.
The beginning balance for the department for 2014 was just under $696,000.  The total revenue, which primarily came from grants, was just under $3,550,000. Expenses for the department are mainly personnel, and they totaled over $4,000,000.  The ending balance for the budget was just over $213,000.
During the closing comments, County Commission Chair, Ron Wells state he had hoped for better participation from the public for the meeting.