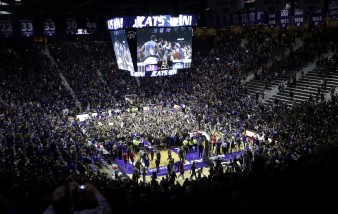 Nigel Johnson scored a career-high 20 points and Nino Williams added 15 including seven critical free throws as a much-maligned Kansas State squad rallied from an eight-point second half deficit to knock off eighth-ranked Kansas 70-63 Monday night at Bramlage Coliseum.
Perry Ellis was the key for the Jayhawks in the first half as he scored 15 of his game-high 24 points. After K-State held a brief 8-7 lead with 15:25 left in the first half, KU went on an 8-2 surge to lead 16-10 and appeared ready to take control of the contest. However, K-State ripped off six straight points in a 52-second span to tie the game and force KU coach Bill Self to call his first timeout.
Once again, the Jayhawks went on another run this time a 10-3 surge to lead 26-19 but the Wildcats refused to quit, outscoring their in-state rivals 12-4 over the final 5:21 to take a 31-30 lead into halftime.
Just like they did at West Virginia last Monday night, Kansas punched K-State in the mouth to start the second half going on an 11-2 binge in the first three and a half minutes to grab a 41-33 advantage before the Wildcats clawed their way back again.
For a while KU's leads would alternate between four and six points until Johnson's three-pointer with 11:24 left tied the score 47-47. KU grabbed the lead back at 50-47 and led 52-49 before another trey by Johnson tied the score and allowed K-State to go on what would prove to be their game-winning run. With K-State trailing by two points yet again it was Thomas Gipson who would put them in the lead with a key layup and two free throws. K-State would grow the lead to 60-54 with 6:13 remaining before KU used four consecutive free throws to close to within 60-58 with 4:52 left in regulation.
Another layup by Williams gave the Wildcats another four-point advantage but Kelly Oubre Jr. quickly scored on the other end to make the score 62-60. After a pair of Williams free throws gave K-State a 65-61 lead Brannen Greene went uncontested for a layup to make the score 65-63 and for a while it appeared that the Sunflower Showdown in Bramlage would become an overtime contest for the second straight year. That's when Williams hit the Jayhawks with a knockout blow with a jumper with 29 seconds left to make the score 68-63. One free throw each by Williams and Justin Edwards closed out the scoring and when the buzzer sounded the K-State fans once again stormed the court to celebrate the Wildcats third win in the last five years over KU on its home court and second in a row.
Kansas (22-6, 11-4) made just two of its final 14 shots from the floor and missed on their last two trips allowing K-State to pull away. For the Wildcats, it marks the first winning streak in Manhattan against KU since reeling off four straight wins from 1981-83 with one of those victories coming in the first round of the 1982 Big Eight Tournament when the first round was still played on campus sites. Monday's win give the Wildcats their first back-to-back wins over the Jayhawks in 27-year old Bramlage Coliseum.
Joining Ellis in double figures for KU was Oubre with 14 points while Gipson was the third double figure scorer for K-State with 12 points.
Kansas State (14-15, 7-9) will return to the Bramlage hardwood on Saturday for its final home game of the regular season when they host Iowa State on Senior Day. Gipson, Williams and Shawn Meyer will be the three seniors honored before the game which tips off at 3 p.m.
Stay connected to all things KSU on the go just text EMAW to 88474
For full video wrap-ups, including analysis, highlights, coaches & player interviews of K-State Football & Basketball check out PowerCatGameday.com