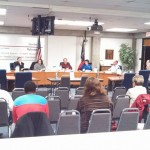 Two bids were submitted for the College Hill Preschool network cabling project-one local bid and one from Missouri.  Manhattan Ogden USD 383 school board members had the chance to review the bids during Wednesday night's school board meeting.
Although board members prefer to give their business to local companies, the Missouri bid came in lower.  Board members mentioned that the upcoming budget cuts make their situation pretty limited, and approved the $16,500 bid from Raytown, Missouri on a unanimous vote.
Director of Technology, Mike Ribble said the project is necessary due to the upcoming construction on the building.  Phase one of construction was previously approved, but the network cables are in the way of the entrance construction efforts.
———-
Budget concerns continue to highlight meeting agendas.
Director of Business Services, Lew Faust shared a budget reduction planning update.  The budget group met the previous evening and discussed possible cuts.
Board member, Marcia Rozell mentioned a $40,000 cut that was discussed.  She said this savings would come if personal electrical options were cut.  This means teachers would not be permitted to have refrigerators, coffee makers and microwaves in their rooms.
Rozell said she knows this may be frustrating for teachers, but it's better than cutting personnel.
Board Member, Darrel Edie commented, "we've identified some easy cuts, but we have three million dollars to cut.  That means we'll have to look at some 'not so nice' cuts".