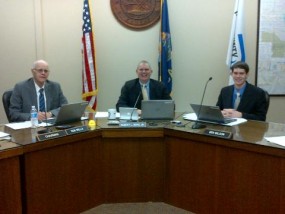 Over 4,000 people showed up from at least 16 different Kansas counties in support of Fort Riley for Monday's listening tour in Junction City. This is according to Manhattan Area Chamber of Commerce President, Lyle Butler, who added that over 7,000 people tuned in via media.
Butler informed Riley County Commissioners, during their Thursday meeting, he was impressed with the turnout.  The original goal was to have 400 people there, which over time grew to a goal of 800 people.
Butler said it was even more encouraging, considering people traveled from all over the state to attend.  "I did not even know the chamber of commerce's that were coming from around the state.  We kind of expected Manhattan, Junction City and Wamego, but we had Lawrence, Salina, Wichita and Topeka", said Butler.
As far as the impression the Pentagon representatives got, Butler commented, "The general stood up and said 'wow' ".  Butler added the Fort Riley area set a whole new standard for the listening tour.
Commissioner, Robert Boyd pointed out that only 300 people attended the Fort Carson listening session in Colorado.