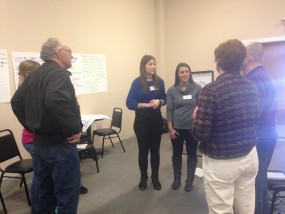 Students and faculty from the Staley School of Leadership Studies at K-State paired with the Konza United Way to host a "Community Conversations" event on Thursday, Feb. 26. The event was held as a means of encouraging discussion between local citizens to identify common needs within the Flint Hills area.
"Overall, I think we got a good perspective on some of the needs that we see, or maybe that we don't see, in Manhattan every day," said student and group facilitator Trent Jones. "A lot of issues were brought to the table about different people in Manhattan and how they're struggling, and different ways that we can help provide resources for them."
Participants were taken through a series of activities by the group facilitators to help them discuss a personal experience in which they were able to make progress toward a community issue, which helped identify common themes. Leadership 405 student and facilitator Ellen Collingwood said by inviting contributors to unpack these issues, they were also able to find common ground based on shared goals.
"Something that was really cool is that we talked about the values that we shared, and even though each of the members that contributed to the conversation had a different background, they all did have a care for the community and wanted to make progress," said Collingwood. "I was very enlightened and impressed and overwhelmed in a good way with how many leaders are already out there caring in the community, and I think that was just very empowering and encouraging."
Several recurring themes discussed by the groups included financial need and homelessness in the area, as well as ways to help break the cycle for those struggling with issues of poverty. Facilitators helped participants focus in on specific causes they're interested in advocating and encouraged them to identify one way they can make progress toward that goal in the coming weeks.
"We challenged them to come up with an action step, of a way that they can tangibly over the next week or two make a step," Collingwood said. "Whether that be sharing what they discussed or discovered at the community conversation today with another individual all the way to having a committee meeting about what the next step could be, I think that getting them thinking about tangible steps really helped them want to make progress."
She added that those involved with the project encourage other members of the community who may not currently have a leadership role to participate in future events to help generate a better understanding of how change can be made in the Manhattan community.