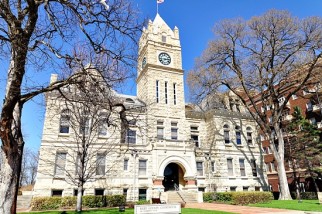 More details have been provided regarding an arrest KMAN first told you about a few weeks ago, involving Ryan Routson,33, of Manhattan. Charges include involuntary manslaughter by DUI, aggravated battery by DUI, and possession of methamphetamine and drug paraphernalia.
A request from KMAN for disclosure of the warrant affidavit was granted Wednesday, indicating syringes and a few plastic baggies were recovered in or near Routson's vehicle, shortly after the May 6th accident at the intersection of Tuttle Creek Boulevard and Tuttle Terrace.
While the redacted affidavit does not indicate who the victim was, previous reports from KMAN indicate the only other injured person in the accident was Megan Hartford, 32, also of Manhattan, who was driving her 2003 Volkswagon Golf west bound on highway 24  when Routson's southbound 2002 Jeep Liberty failed to stop at a stop sign on Tuttle Terrace. The affidavit mentions a stillborn baby was born to the unidentified victim the night of the accident.
Troopers found nothing functionally wrong with either vehicle that would have contributed to the collision and a witness reported seeing the Jeep at the stop sign, but said while it stopped, it continued without yielding.