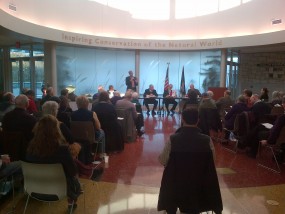 State budget issues, the Kansas highway fund, education and water were just a few of the topics covered during Saturday morning's legislative coffee held at Sunset Zoo.
Four area legislators participated in the event:  Representative of the 51st District, Ron Highland; 66th District Representative, Sydney Carlin; 51st District Representative, Ron Highland; and 67th District Representative, Tom Phillips.
Each of the four individuals provided a brief opening statement about the current issues they are facing in the legislature.
The majority of the time was spent answering written questions, which were submitted by members of the audience.  Three major topics were outlined within the questions:  the state's highway fund, education, and water.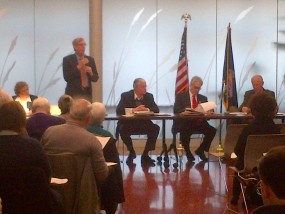 Representative Phillips commented on borrowing money out of that fund and trying to sustain the economy with it.  He said "it's time to stop that".  Representative Highland seemed to agree, as he called the highway fund a piggy bank that the government seems to dip into.  Senator Hawk was also in agreement, saying "it's dishonest to take this money".  Representative Carlin put the impact into perspective by pointing out that they are $700 million below inflation for the last 15 years.
Most of questions directed towards education involved the funding formula and core curriculum.
Representative Highland began speaking in this topic by saying, "education is the big elephant in the room".  He said if it goes as scheduled, they should hear a proposal this week on block grants for education.
Representative Carlin said she has never served on the education committee, but as a mother of four kids who went through public education and college, it "breaks her heart to see the cuts".
The next legislative coffee will be held in the same location on March 28th.