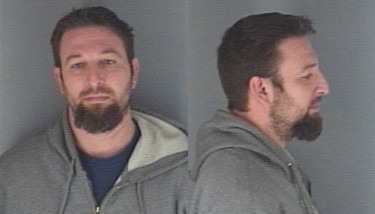 A Rossville man who faces a vehicular homicide charge in Riley County made first appearance Wednesday afternoon in Riley County District Court. Derik Kesler, 32, stood silent next to his attorney as the misdemeanor vehicular homicide count was read by Judge John Bosch. Kesler was served with the warrant earlier this month, in connection with the June 2014 accident, resulting in the death of Mark Jilka, 49, of Manhattan.
Kesler's attorney indicated his client plans to apply for diversion in the case, and Judge Bosch ended up entering a not guilty plea for Kesler at this time.Kesler's next appearance is set for March 2 at 9 a.m. before Judge David Stutzman.
As announced earlier this week, a voluntary witness statement from Kesler at the time of the June 26th accident indicates he was looking at an address he had put on the GPS of his phone to see where he was going, and he did not see Jilka.